With Pexip you only pay a monthly subscription fee for business quality video communication. You start your video meeting in seconds. In your Virtual Meeting Room (VMR) you can have a video meeting with up to 100 audio / video participants at the same time. Whether it concerns employees who work from their laptop or tablet or smartphone, or teams that come together in a virtual meeting room. You can also easily invite external parties and everyone can also share computer images.
Pexip makes it possible to easily adjust the upscaling and scaling-up of the number of licenses, with the monthly subscription amount moving along. AVEX is available on weekdays between 7:00 AM and 7:00 PM to expand ad hoc capacity.
It is not necessary to reserve the VMR and there is no technical preparation. The VMR is suitable for spontaneous consultation with single or multiple participants. Each VMR has unique dial-in information to share with a colleague, team, customer and / or partner.
Advantages Pexip Video Meetings:
No years of subscriptions
Readily available
platform independent, you can invite anyone online
Full compatibility with Skype for Business / Microsoft Teams, Zoom, Hangouts Meet, Cisco WebEx, etc.
participate in a VMR via computer, tablet, smartphone, video system
Easy upscaling and downscaling of the number of user licenses
Confidential conversations thanks to secure meetings and encrypted videos
No investment in the video infrastructure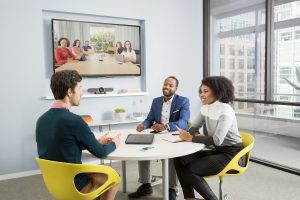 More information or a quote?
Have your own Virtual Meeting Room today! Contact us using the form below. Or call us:+44 (0)203 915 2266