Large video walls are rapidly becoming increasingly popular. Modern and innovative. They have begun to appear both indoors and outdoors, and in all shapes and sizes. Such an attractive digital wall provides an experience and dynamism in any room. It can lend your showroom, reception lobby, shop, company restaurant or exterior wall a completely different look. Modern and innovative.
Several examples are shown here in order to give you a suitable impression of the possibilities available. AVEX would be pleased to advise you on the creative options, for either a fixed setting or for an event.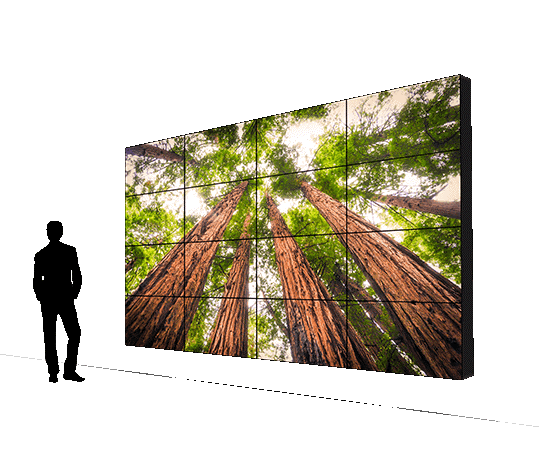 Suitable for indoor applications.
An LCD video wall is made up of several displays. The slim black edges, or bezels, are therefore visible between the screens.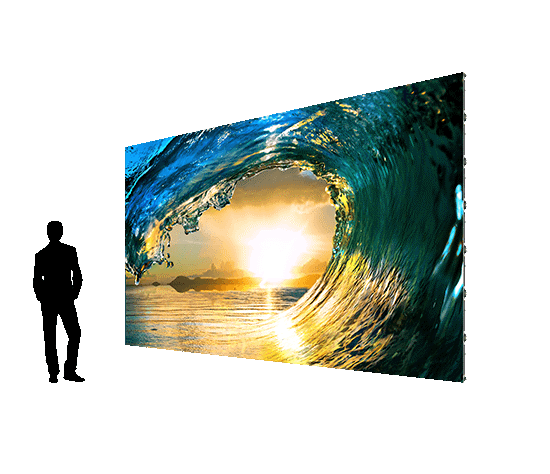 Suitable for indoor and outdoor applications.
An LED wall is made up of panels that are seamlessly joined to one another to create a homogeneous whole. It therefore immediately makes a considerable impression.
Rapidly adopted
Recent developments in LCD and LED technology have swiftly followed each other. In the meantime, the price-quality ratios of these screens has become so favourable that video walls are being installed in more and more buildings.
The following are vital aspects when it comes to choosing LCD or LED:
the amount of ambient light/daylight
the desired brightness of the screen (the default level of LED is higher)
the viewing angle and viewing distance in relation to the screen resolution
power consumption
the quality of the content available
the purchase costs in relation to the Total Cost of Ownership (TCO)
A stunning, large presentation wall can be created by linking several screens together. The result is always impressive. An eye-catcher in every room.
Content Creation
A presentation wall is a powerful communication tool when it comes to customer experience and corporate branding. Use of the appropriate content enables you to either swiftly create a completely new atmosphere or invigorate an existing theme in your shop or showroom. AVEX's Content Creators are our creative specialists, who translate the core of your communication objective into creative content. Let us inspire you.
Flat or curved? Wall or ceiling-mounted?
Thanks to the recent introduction of curved screens, creativity can now really be let loose. This enables one to emphasise the shape and lines of a room, while use of the appropriate content truly creates the wow effect. The installation of LED panels in a suspended ceiling also lends a room an experience with an exceptional effect.
Advice regarding the right choice
We use exclusively high quality LCD and LED products, while also cooperating with manufacturers that offer quality support and service. You can rely on AVEX to provide:
Advice and design by expert engineers
3D impressions in advance
Installation by experienced technicians
Remote and On-site Service and Support
Our specialists are always pleased to think along with you. Regardless of whether it relates to an indoor, an all-weather outdoor, or a window facing application, which involves the installation of a screen in a shop window or the facade of a building with a view to attracting the attention of passers-by.
Showroom visit
We also offer you the option of visiting either our showroom or a reference site to experience and compare the actual quality.
Interested in Video Walls?
Would you like to know what we can mean for you? Then contact us for an appointment, free of obligation.
+31 (0)346 259 259
info@avex.nl